Smale Riverfront Park is "Bringing It" with a blend of Federal, state, local and private funding. "Let's Bring It—Together!"

As of Spring, 2014, almost $90 million in funding has been secured to construct Smale Riverfront Park, a $120 million project:
Federal Funding —$14 million
State Funding —3 million
City Funding —$27 million
Private Funding—$41 million
The Cincinnati Parks Foundation continues to file grants to support this project. Parks representatives have already met with over 50 community organizations and corporations to present the Smale Riverfront Park Project.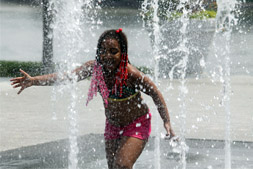 Capital Funding is Debt Free!
Up to $50 million is targeted to come from the Federal government
Over $10 million is targeted to come from State Funding
Over $20 million is targeted to come from Local Funding
$40 million has been raised privately to complete and partially endow the park.
The revenue generated through the commercial opportunities will help support the ongoing operational needs of the park
The first phase of the park is estimated to cost $600,000 annually to operate.
Operating costs will be offset through a mix of funding sources, including:

Revenue from the restaurants and cafes in the park
Fees from special events and festivals
Concessions
Tax support
Endowments
Fees from The Banks development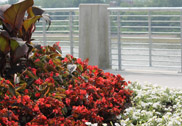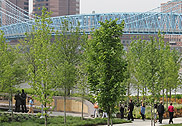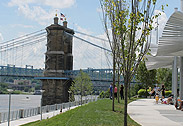 Park costs are estimated to be $2.5 million/acre. This cost is equal to or less than other comparable waterfront parks, including:
Chicago Millennium Park = $17.6 M/acre
Capital City Landing, Indianapolis = $3.55 M/acre
Charleston, S.C. = $3 M/acre
Louisville Waterfront Park = $1.4 M/acre
Berry Friendship Park (Cincinnati)= $1.5 M/acre
Tall Stacks / Yeatman's Cove (Cincinnati) = $1.8 M/acre